I am very excited because a few weeks ago I signed up to join the Writers Digest Book Club. This book club will give me great access to writers, an online critique group and a great savings in books.
My first four books came in the mail yesterday. So far, they are a huge help. I'll be the first one to admit that I am an "author in training" so to speak. I'm very new to all of this so I'm trying to study as much as I can to make sure my writing skills are sharp and are where they need to be for this book and for future writing endeavors.
So, some people are probably wondering...
"Why are you blogging about the process instead of blogging when the book is complete?"
Well, I'm glad you asked.
I blog about my experiences as an upcoming author because I want people to see how the process goes. Most of my friends aren't writers and aren't thinking about writing a book. But, other people I know want to. I would like to encourage people to know that this is something that is "possible". While some people have this crazy assumption that when you say you're writing a book, you mean, a college "text-book". The truth is, that's not true. You don't necessarily need a 10 year college degree in order to write a book. All you need is creativity and a passion to write. With those two things alone, something great can happen.
I'm writing a Christian Fiction Novel! It's "Christian Fiction" because it's main principles promote Godliness and Holy Living! It's Fiction, because it's a story! It's a Novel because..well... that's what it is!
As an update:
I had to take a huge break due to being "under the weather" and extremely exhausted! My 7 month old is teething- those of you with children, know what I'm going through- Just say a little prayer for me please!
Today, I'm finally getting another chance to get back on the move with this book. Sometimes I feel like I'm stalling and not really going anyplace with it. Today, I'm determined to wrap this thing up. Hopefully, sometime in the next month I'll be done. In fact,let me just make a proclamation....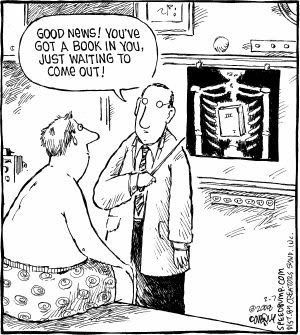 Here ye, Here ye! I now Proclaim that I will be finished this book by...
April 5, 2008!
Those who love me, please hold me accountable to this. I'm making my own deadline date to be finished this manuscript because I don't have an Agent who gave me one. This is a form of a discipline I talked about a few blogs back.
Well everyone...
Stay Tuned!