Philippians 2:1-4 "If therefore there is any encouragement in Christ, if there is any consolation of love, if there is any fellowship of the Spirit, if any affection and compassion, make my joy complete by being of the same mind, maintaining the same love, united in spirit, intent on one purpose, Do nothing from selfishness or empty conceit, but with humility of mind let each of you regard one another as more important than himself; do not merely look out for your own personal interests, but also for the interests of others."

Hebrews 10:24-25 "And let us consider how to stimulate one another to love and good deeds, not forsaking our own assembling together, as is the habit of some, but encouraging one another, and all the more, as you see the day drawing near."
My son just walked into toddlerhood on Saturday. He made one year old! (Time flies- goodness!) We had such an awesome times. I appreciate the friends who came to celebrate his birthday. There were a couple other babies who came to his party: Tyler (11months) and Johnathan (7.5 months). It was the cuttest thing in the world to see them play together. Although they are babies, something began to concern me: My little one appeared a little antisocial. Now, I won't open up a discussion about children being antisocial or if it's because I am a stay at home mommy. Many people have different thoughts about daycare vs. at home care. We'll leave that one for the birds to sing about. But, I will say that I do realize it's important for my little one to begin socializing with other children- and early.
I stood back and watched them all dance to his Veggie Tales music. They had a blast. But, then I thought about socializing in general.
Why do we meet people? Why is it important for us to mingle- to be social and get to know others. Should we be content with who we already have in our lives? What if I've been hurt in the past by people and am not over it? What does God say about this?
I was talking with my sister in law the other day about this very thing. I find that it's interesting how we go through life meeting so many different types of people- whether it's work at the mall or at the market. Someway or another, someone strikes a conversation and something happens. Either we are drawn to that person's spirit or just have something in common. Whatever way it is, I've come to believe that it's not by accident or choice that we've met the people in our paths.
For example. In New Orleans I used to work for a ship management company. I was the youngest one there and probably the only one who did more then believe in God- I lived the lifestyle, which was evident in the way I carried myself as a young woman at about Eighteen years old. One of the other young ladies I met there was over ten years older than me, but personality wise, we "clicked". Some people charged it to our Astrological sign (which I don't follow) but I just enjoyed conversation with her and our common ground was style and fashion. We both love to shop. Well, there were a few instances where the topic of church came up. I thought it strange for her to just begin talking to me about God, but, I listened- clearly because I didn't want to mess up anything without hearing what the Holy Spirit would tell me first. To make a long story short, the Lord used me to really encourage her in some things she was going through. We began great friends and she often shared how surprised she was to see a young woman like myself serve God. We keep in touch from time to time, but she's in my prayers when the Lord places her on my heart.
Looking back, I could of remained quiet and never said a word to her- or simply ignored her questions. I feel a certain conviction if I don't answer a question or if I don't say what God wants me to say. After that situation, I realized that it's not our choice who stays in our lives, or who leaves. My godmother once mentioned that people come into our lives for reasons, seasons and lifetimes. I do have a group of friends I've known for over ten years. However, I do have friends I knew for a very long time who aren't around anymore due to life circumstances and growth on both ends. My heart will never forget their friendship, but I know I must live my life and move forward in the direction God has placed me.
Where does it start?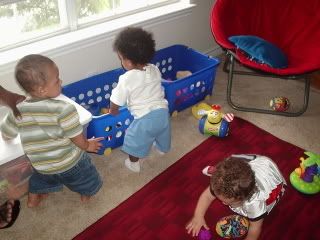 I honestly believe it starts right there at that picture.
Here's why:
My husband and I follow true to the above scripture.
Hebrews 10:24-25 "And let us consider how to stimulate one another to love and good deeds, not forsaking our own assembling together, as is the habit of some, but encouraging one another, and all the more, as you see the day drawing near."
We have a group of really good friends. Thankfully, God has placed wonderful other young married couples in our lives. Sometimes it's challenging to get together as often as we'd like because we all have younger children, but we do our best. We have fun, watch good family movies and play games. What I love best is that we encourage one another in the word of God and keep each other accountable. This scripture is so true because real friends will stimulate each other to do good works...real friends will encourage each other in good and bad times, and especially since I believe we are living in the last days. We don't have time to play with all of the spiritual warfare going on today.
But, I thought about how our children are and will continue to be impacted by our bond and how they will learn by our example to encourage each other in the Lord. This is truly blessing me and I thank God for his wisdom.
I encourage you, if you have children, to let your children bond with other children- especially if you are raising them by the word of God. Children lead by example and I believe if we have more families really showing our children the Godly way to live, more people in their generation will come to Christ.
Father, you are so awesome how you send your Holy Spirit to give us wisdom and direction. I ask that you would continue to lead us by your Holy Spirit and show us the right way to be parents. Touch our children's minds and hearts and let them see the light of Christ in us, so that they can display the same love, affection and compassion for the lost. We thank you for your continues grace and mercy. In Jesus Name. Amen
Blessings,
Kennisha