(1 Samuel 1:10- NIV)
10 In bitterness of soul Hannah wept much and prayed to the LORD. 11 And she made a vow, saying, "O LORD Almighty, if you will only look upon your servant's misery and remember me, and not forget your servant but give her a son, then I will give him to the LORD for all the days of his life, and no razor will ever be used on his head."
Hannah was married to Elkanah. He was also married to Peninnah, but he had a special sparkle for Hannah. Unfortunately, she was barren. Just as Sarah arranged with Abraham for him to have another wife for the sake of keeping the generations alive, she agreed that he could marry Peninnah for that purpose. With great strength, she watched as Peninnah and Elkanah had children.
Peninnah was believed to constantly remind Hannah of her current state. She mocked her. She flaunted her children around her to get a reaction. But, Hannah- being the graceful woman that lived up to every meaning of her name, she chose not to engage. Instead, she patiently and fervently prayed.
Remaining True to Prayer, Inspite of...
"Jealousy, "the green-eyed monster that mocks the meat it feeds on," had taken posession of Peninnah, but not of Hannah. Although the Lord has "shut up her womb" her heart was still open towards Him." (Lockyer, 65)
This is a challenge for many of us in our day. The economy makes you want to stuff your money under your matress instead of trusting it in banks, the price of everything is escalating. It's almost as if life on it's own is a stress. What do you do when you've reached the point of one similar to Job- where you feel like God has taken it all from you?
Hannah is the perfect example of how we should handle such things.
Prayer.
(James 15:16,"Confess your faults one to another, and pray one for another, that ye may be healed. The effectual fervent prayer of a righteous man availeth much.")
Hannah prayed and prayed, fervently, begging God for a son. With Peninnah giving her so much drama, she gracefully handeled the situation, yet went to God in a vulnerable state asking for his grace in her situation. To make matters worst, her husband loved her so much that he catered to her feelings and brought her comfort the best he could and Peninnah was right there to bring more daunting insults and start drama because of his love for her. Peninnah was obviously jealous and did everything she could to tear Hannah down.
Isn't it interesting how the enemy works? There is Hannah, seeking God for a miracle and then there is Peninnah- starting drama. Have you ever experienced something similar? Do you know people who seem as if they were assigned by Satan himself to try and get in the way of your miracle? If so, how do you handle the situation? Do you give them a piece of your mind, or are you graceful about it like Hannah? Do you take your concerns to the Lord?
Still, she remined prayerful...
I believe Hannah consistenly prayed and believed God would open her womb to have a son. "Her pain found a refuge in prayer" (Lockyer, 66). She lived and breathed prayer. I imagine, every hour- every chance she'd get, she prayed. She was on her face laying prostrate before the Lord. She cried out to him in the day and night. She was persistent. No one got in her way. Even when it seemed like people had no sympathy for her condition, still, she prayed. And, I don't think she was asking for people's sympathy. She was asking for God's hand on her situation. She knew the power of God and trusted that he could perform a miracle in her life.
Hannah's story takes an interesting twist though. She prayed so much to where she could barely make a sound out of her mouth. Have you ever been in the presence of God and you could barely speak and yet your heart was filled with prayer as tears flowed down your cheeks? Your vulnerable? Your weak. Your mentally drained as you can't even think to utter one word out of your mouth because you've probably already said it all at least 100 times before. The Spirit of God has consumed you and you begin to rest in his presence?
This is what Hannah was experiencing when one of the old priest, Eli, found her that way. He assumed she was drunk. Although we'd call her 'drunk in the Spirit', we understand that she was not drunk with wine. She actually had to plea her case on that one. Although it's said that Eli didn't have it out for Hannah, he was only doing his job as a Priest- I'm assuming to make sure she wasn't drunk. She then explained everything to him and he believed her by saying, "
Go in piece, and the God of Israel grant thee thy petition that thou hast asked of Him.
" (
1 Samuel 1:17
)
It pays to pray
(I Samuel 1:19-20)
19 And they rose up in the morning early, and worshipped before the LORD, and returned, and came to their house to Ramah: and Elkanah knew Hannah his wife; and the LORD remembered her. 20 Wherefore it came to pass, when the time was come about after Hannah had conceived, that she bare a son, and called his name Samuel, saying, Because I have asked him of the LORD.
The Lord heard her cry. Just as he heard Hannah's I believe he hears ours. God hasn't changed. He's the same yesterday, today and forever. He's performed miracles then and he's still doing them now.
How God heard my prayer...
I didn't know Hannah's testimony until I studied it for this series. But, what I find interesting is that I prayed the exact same prayer that Hannah did. After I had two miscarriages, I practically begged God for a child. I didn't want to be so picky as to ask for a son- at the time, a girl or boy would do just fine for me. But I prayed. And I kept praying. And I didn't stop praying. I told the Lord, that if he blessed me with a child, that I would submit my child to Him. That I would train him up by His word and raise him to be a strong man of God. My heart was sincere and my mind was pure. And the Lord heard my prayer and blessed me with a son.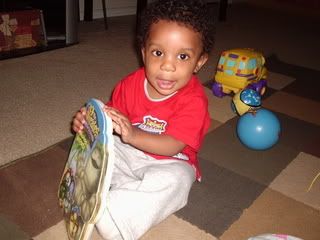 God is still in the business of answering prayers. Let's pray to be like Hannah- persistent in our prayers and trusting that God is able to answer them!
"Come and hear, all you who fear God, and I will declare what He has done for my soul. I cried to Him with my mouth, and He was extolled with my tongue. If I regard iniquity in my heart, the Lord will not hear. But certainly God has heard me; He has attended to the voice of my prayer. Blessed be God, who has not turned away my prayer, nor His mercy from me!" (Psalm 66:16-20).
Let's trust God!
Blessings,
Kennisha
_____________________________________________________________________________________
Don't forget!
If you post a comment in any of the Woman of the Word messages, you'll automatically be entered in the drawing to win "Ordinary Mom, Extraordinary God", by Mary DeMuth!
Remember to leave your name and email address! I announce the winner November 1st!
**Excerpts taken from
All the Women of the Bible
, by Herbert Lockyer**