God met me there. Sitting high on a rock surrounded by streaming water, I close my eyes to breathe in the fresh air. I have my "Ah-Ha" moment before taking a minute to stare at the gray clouds that swiftly breeze above my head. This is my place. This is my time...my time of prayer and escape; of meditation and peace. And whether or not I choose to scream and throw a rock into the river out of rage or sit still with easy flowing tears, this is still my place. My place where I meet God who understands my screams, laughs, cries and vulnerability.
I miss a place like that. But, do I really need a lake, river, ocean, mountain or even church to find God?
Two very special friends of mine, Leron and Aleysha Smith, came over for a visit this weekend. They are two of the sweetest and most sincere people that I know. They came over, bringing lunch, and offering their friendly company to my lonely heart (missing my husband who's working out of state). We shared tons of laughs; just incredible fellowship.
Well, one of the things we talked about was "That place". We talked about prayer and the different ways God speaks to us and we commune with him.
I have to admit, when I was single, I found God in some of the most extraordinary places. Living in Atlanta, I'd find him at Stone Mountain or Kennesaw Mountain; and most times at Centennial Park. Living in New Orleans, I found my place of peace and commune with God was at Lake Pontchartrain or the Mississippi River. Those very scenic places always attracted my vulnerability and there I would look for either a sign- sometimes a yes or a no. They were very majestic places for me. High on the mountain top, sometimes I'd give the most sincere worship and even at the Lake in New Orleans, I'd cry what felt like my last tears to wash certain situations away. And at night, God would show me miraculous signs in the stars by batting a shooting star right above my head. In my relationship with Him, those places gave me security and peace. And, most often, after my time there, I felt refreshed.
But, Today, you're reading from a mother of two babies- a toddler who's a few weeks shy of being two and a 5.5 week old infant. They are my blessings. However, those with small children know the almost impossibility of having that kind of escape- especially if you're a nursing mother.
So, where do I meet God, if I don't meet him at the Lake, River, Ocean or Mountain Top? Coincidentally, after they left, I opened up "
Blue Like Playdough
" and the first two paragraphs of Chapter one answered this question.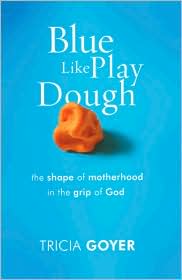 I want to share a small excerpt from my friend, Tricia Goyer's new book "Blue Like PlayDough: The Shape of Motherhood in the Grip of God".
"I never thought I could meet God here. In my home. In my mess. In the midst of my ordinary suburban life. To me, God was someone you met at church or connected with at weekly Bible study. I knew deep down it was possible to have mountaintop moments, but I believed they came during weeklong spiritual retreats, hourlong morning Quiet Times, and a once-a-year women's conference.
Instead, I found God in surprising places. I found Him as I sat on the couch cuddling with my three-year-old and reading Goodnight Moon for the 2,345th time. He spoke to me as I made dinner and even as I stuffed laundry into rickety dresser drawers. I heard Him in the midst of my untidy, desperately-in-need-of-a-reorg life. I found God, experienced Him...well...while mixing Kool-Aid and playing with play dough."
Having a beautiful place as your place of prayer is truly incredible. But, if you're like me today and don't have that place, know that God can meet you exactly where you are, right now. Those experiences are unforgettable and made my walk with God that much stronger, but I'm still growing. And, I have the most powerful most amazing moments with God when I'm rocking my daughter to sleep, or singing to/with my son before bed...I have the most sincere times of prayer when they are taking a nap and I can get on my knees; surrendering my day, my life to God. Or even, as I'm doing laundry and humming a worship song.
What I'm saying is, God is everywhere.
Jeremiah 29:13(NIV)"You will seek me and find me when you seek me with all your heart

."
I encourage you today to fully seek the Lord, with your whole heart. Yes, you can meet him at extraordinary places and even at church (some) the presence of the Lord is there (corporate fellowship is crucial to our development as Christians) But, you can meet him at home too...and at work... and at the mall... and on a plane...
Just seek Him with your whole heart, and He'll meet you where ever you are!
Sending a gift, on My Birthday!
I am going to give a way a copy of Tricia's book "Blue Like Playdough" on my birthday, August 14th! To participate in this give-away, all you have to do is send a comment telling me where you meet God! I'd love to hear your experiences. You'll also receive a copy of my new book, "Simply Wisdom"! Two great reads, for free! I will pull names and the blessed winner will be notified on my birthday, August 14th!
Thanks for Visiting and I pray you have a tremendous day in the Lord!
Prayers and Blessings,
Kennisha Hill